@bout Designer & AfriCreations
Delores Chamblin is owner and creator of AfriCreations. All crocheted
items on this website are also Ms. Chamblin's original creations.
Delores Chamblin is a self-taught professional designer who has been
designing and crocheting for many years. Since the 1970's, her unique
creations have been sold at many events and to gift shops. In the 1980's
and 1990's some of her original crochet patterns and designs were sold
to Caron International yarn company and publishers (see below). Her
crocheted tapestries, hats and other original creations were featured
in a month long exhibit at the Wyandanch Public Library, Long Island
New York in 1991. Other creations have been displayed and sold at the
gift shop of the African American Museum in Hempstead New York in
the 90's and at Polk Museum of Art (a Smithsonian Institution affiliate)
gift shop in 2010 and 2011. Today her unique crocheted creations can
be found at the Black Swan Bazaar in the arts and antiques section of
downtown Lakeland Florida and online.
AFRICREATIONS MAILING ADDRESS
AfriCreations
P.O. Box 1686
Lakeland, Fl 33802-1686
Tel: 863 648 2354
AFRICREATIONS E MAIL ADDRESSES
General Info ...................... infor@africreations.com
About Order ..................... order@africreations.com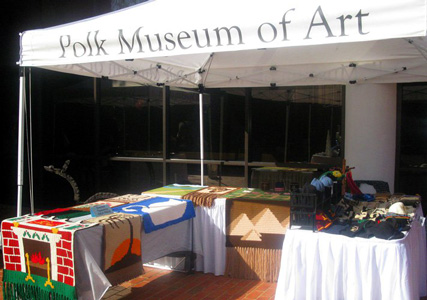 Original Crocheted Tapestries, etc by Delores Chamblin at
Polk Museum of Art Gems & Jewels Artist Market 11/18/10
Buy AfriCreations Unique Crocheted Hats etc By Delores
Chamblin Offline at Black Swan Bazaar, Lakeland Florida
Delores Chamblin is a Member of Crochet Guild of America
Delores Chamblin's ~*~ Published Works

Bathroom Tissue Toppers to Crochet (Leisure Arts 1993)

Holiday Baby Bibs to Crochet (Leisure Arts 1993)

Original Crochet Wall Hanging Designs in
Family Circle Fashions & Crafts Magazine, 1986

Original Crochet Wall Hanging Designs in
Women's Circle Magazine (Autumn 1992 & Summer 1993)

Delores Chamblin's original crochet pattern for the Plaid Tissue
Topper is included in Vanna White's book: Vanna's Afghan and
Crochet Favorites AfriCreations is also listed in the book
Crocheting For Fun & Profit by Darla Sims.
OTHER ACHIEVEMENTS & INFO PERTAINING TO
DELORES CHAMBLIN AND/OR AFRICREATIONS
SLIDE SHOW - AfriCreations Original Crochet
Creations at West African Wisdom Adinkra Symbols
AfriCreations Video And Audio Archives
Black Women Host Innovative Internet Radio
Programs That Educate, Motivate, Inspire & Inform
Influencers & Innovators of the Internet & Technology
Poems by Delores Chamblin & Poetry Award
100 Black Women of Long Island (Member 1993 to 1994)
............................. PRIVACY POLICY .............................
AfriCreations will never sell, rent, trade or give away any
of your personal information to unauthorized persons.
............................ COPYRIGHT NOTICE .........................
All AfriCreations logos, designs, products and photos are
the service marks and properties of AfriCreations. All other
brands, products, photos, music and other works are the
properties of their respective owners.
Click the links below to shop online or to go to other areas of the website
Hats Page1 **** Hats Page2 **** Hats Page3 **** Hats Page4 **** Hats Page5
Hats Page6 *** Hats Page7 ** Cases Page1 ** Cases Page2 *** Cases Page3
About/Contact *** Customized ** Published Works ** Crochet Art *** Home
Copyright © 1996-2013 AfriCreations